AvailabilityOnline
- Rates
The service you need for a price you can afford!
Availability Online is a subscription-based service with a choice between two low annual fees.
Both our Basic and Premium Service options come complete with:

100% guarantee of satisfaction
90 day full money back guarantee
Free account set up & customization
Free unlimited technical support
No commission fees
No hidden charges
For a list of specific features found in our Basic and Premium Services please view our Features Comparison Chart
View examples of all our Availability Display Options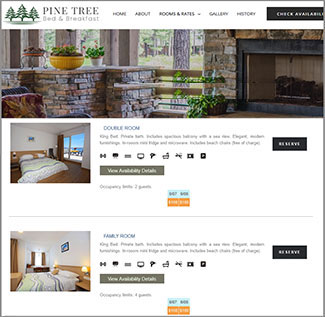 Premium Service
$175 per year
Includes all features in our basic service plus many other exciting options.
Superior visual integration with your website (availability displays can be made to match your web pages)
6 different availability display options
Reservation totaling including nightly rates, fees and taxes
Secure gift certificate order form
Text message notifications for new reservations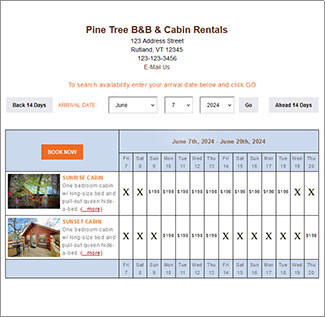 Basic Service
$85 per year
All the standard features found in Availability Online's original service.
Secure Reservation Forms
2 different availability display options
Nightly Rate & Min. Night Stay Options
Automatic interface updating (using compatible reservation desktop software)
Unlimited toll-tree technical support
Testimonials
"Availability Online has far exceeded my expectations. The software is so easy to use, the availability calendar looks professional and up-to-date while the standardized request form allows us to have efficient and timely communications with potential guests." - Alexander's Country Inn
"Availability Online is absolutely terrific. It was so eas to get started. The service has really increased our business & cut down on our work load." - Hartness House Inn