AvailabilityOnline
- Online Booking Engine!
The Availability Online booking engine is an easy and affordable way to increase your online bookings from your own website. Choose from several different room availability displays and reservation forms.


Our online booking engine was designed to be quickly and easily managed by even the novice computer user. There are no downloads. No complicated 10-pound user guide. No need to be fluent in the language of High-Tech. And, if you do have a question or need assistance our staff is always eager to help. We offer FREE unlimited technical support!
Customize your booking engine to meet the needs of you and your guests! Here's How:
Choose How You Want To Show Your Availability
We offer several different display options for you to show availability on your website. You can choose to show one or multiple displays on your site. Our staff will visually customize the pages of your booking engine at no charge.
Sample images: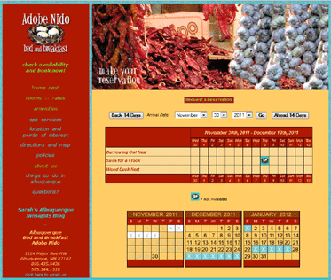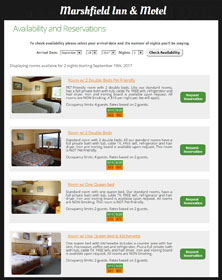 Choose How You Want To Take Bookings
We offer two types of reservation forms:
1- Confirmed Reservation Form- A hands-off option. Your guests receive an auto reply email that contains a copy of their reservation information with a confirmation number and assume their reservation is final.

2- Reservation Request From- A hands-on option. Your guests receive an auto reply email that contains a copy of their reservation information. Your guests will await to hear from YOU for final confirmation.


Both reservation form options securely collect your guest's credit card information (if you choose). You would process your guest's credit cards using your normal processing method.
When your guests submit a reservation you are instantly notified by email (Premium subscribers can be notified via Text Message, Fax and/or Pager as well).
There are no additional fees or commissions charged to you for any reservation using the Availability Online booking engine.


Sample image of the Availability Online Booking Engine's reservation form.
Show Your Rates and Minimum Night Stay Requirements in your Booking Engine
Choose 4 different ways to show your room rates. In addition, Availability Online can calculate a reservation total for your guests. This total can include tax and misc. charges if you wish. Your minimum night stay requirements can also be enforced when your guests book a room.
Updating Your Availability Is Easy!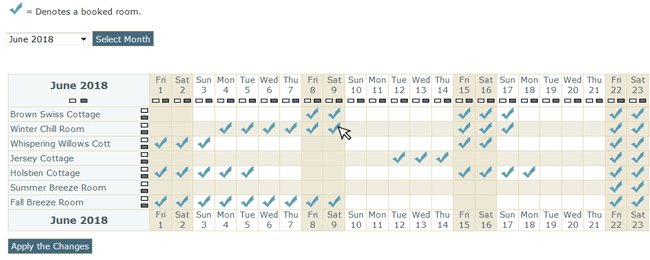 Adding your vacancy information to your availability calendar is as simple as a click of your mouse. Once you login to your personal Administration Center, place a check mark in the Update Grid for each Room and Date that should appear 'booked' on your display calendar. If you use a compatible Desktop Reservation Software system, updating your vacancy information can be automatically updated.
Adding the Booking Engine to your Website
After you sign up for Availability Online our staff will create (and Customize for Free if you'd like!) your account. We will contact you by email, usually within the same business day, with the information your web designer needs to easily add Availability Online Booking Engine to your website. Here are some working examples of how your web designer could add the Availability Online links to your website:
Option #1: Add a button to your website---
Option #2: Add a simple text link to your website-- View Our Room Availability!
Option #3: Embed monthly calendars on any of your web pages-- Embedded Calendar Example
Option #4: Add a Date Select Tool Bar to any of your web pages--
Once established on your site, your guests will simply click the text link or button to view your room availability calendar and/or reservation form.
Changing Functionality and Visual Settings for your
Booking Engine's Availability Calendar and Reservation Form
We always set up and visually customize your account at no extra charge when you sign up for Availability Online. We will set up your Availability Online pages so they match the visual aspects of your website.
Your personal Administration Center allows you to easily change settings in your booking engine's availability calendar display and reservation form. Here is just a small list of what items you are able to edit within your account:
Easily edit the colors and appearance of your calendar and reservation form.
Add nightly rates and min. night stay requirements.
Add taxes and special fees to your account that will be included in the reservation form process
Add custom questions to your booking form. ie: 'Do you have dietary restrictions?' or 'How did you hear about us?'.
Add packages to your reservation form
Add, edit or delete rooms from your account
Show events or special happenings in your area on your availability calendar
Seasonally change your no-vacancy graphics. There are over 50 no-vacancy graphics to choose from